Anfang vergangenen Jahres präsentierte Mezco Toyz still und heimlich eine vollbewegliche Batman Actionfigur zu Tim Burtons 'Batman'. Konkrete Infos zur Veröffentlichung gab es kaum – jetzt kündigt sich die Figur endlich offiziell an!
Die 17 cm große "Batman 1989 Edition" Actionfigur aus der One:12 Collective-Reihe kommt gleich mit 3 austauschbaren Köpfen, Spearguns in verschiedenen Variationen, dem Gauntlet und einer Zeitbombe. Dazu 5 Batarangs, 8 austauschbare Hände, Base und Halterung. Obendrauf kommt die Figur mit 2 austauschbaren lederartigen Umhängen.
Verschickt werden soll die Figur im Zeitraum von September bis November 2020 und konnte für 110 Dollar beim Hersteller vorbestellt werden, was mit Gebühren und Versand umgerechnet auf etwa 150 Euro kommt. Aktuell kann man sich leider nur noch auf eine Warteliste setzen lassen. Noch konnten wir keinen deutschen Händler ausfindig machen, der die Figur mit ins Programm nimmt.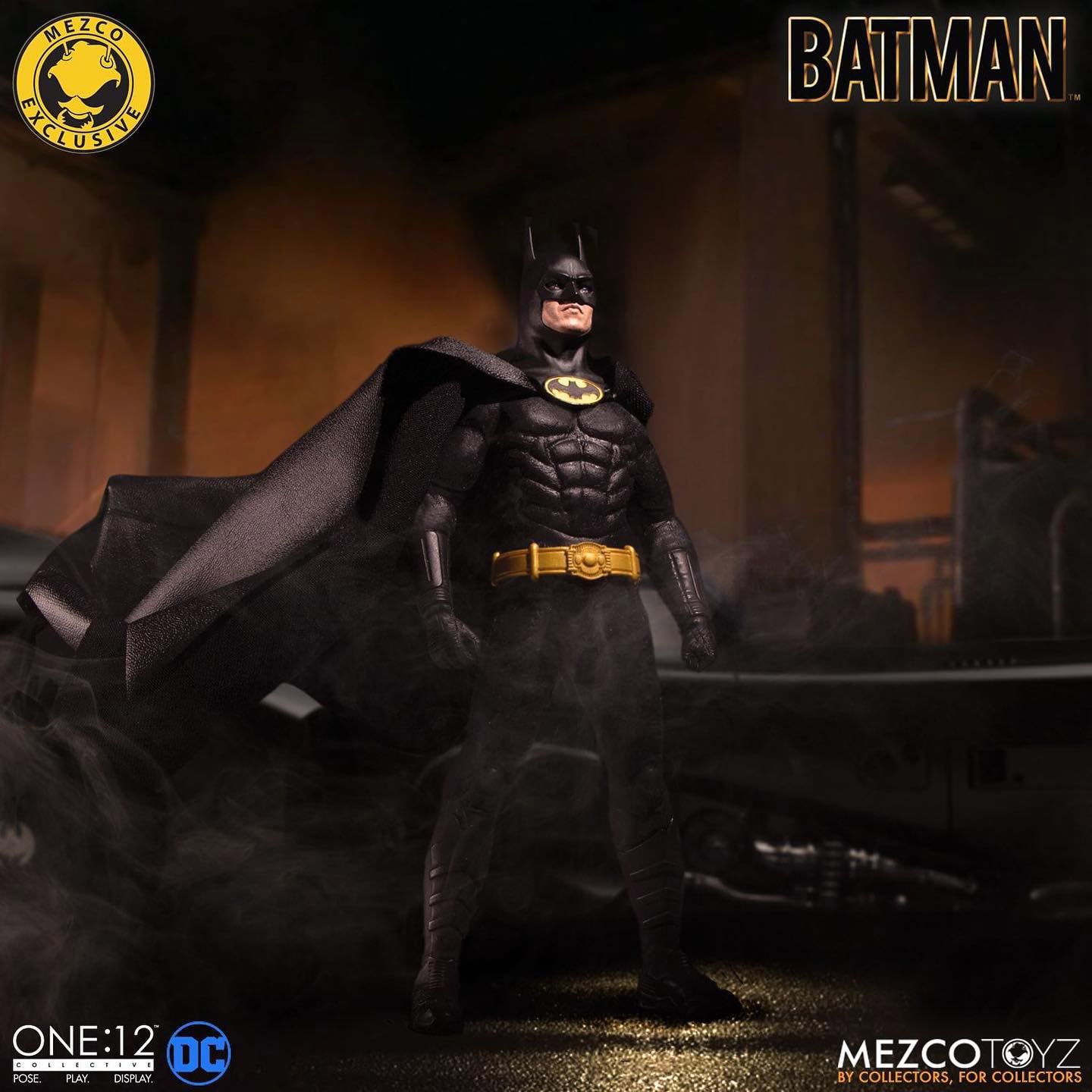 Hier die offiziellen Spezifikationen der Figur:
THE ONE:12 COLLECTIVE BATMAN FIGURE FEATURES:
All-New One:12 Collective body with seamless armor and hidden articulation
Three (3) head portraits including one with posable eyes
Hand painted authentic detailing
Approximately 17cm tall
Eight (8) interchangeable hands

One (1) pair of fists (L&R)
One (1) pair of posing hands (L&R)
One (1) pair of Batarang holding hands (L&R)
One (1) pair of gun holding hands (L&R)
COSTUME:
Cowled head
Bat insignia
Leather-like cape
Batsuit with body armor
Wrist gauntlets
SAP gloves
Utility belt
Shin armor
Tactical boots
ACCESSORIES:
One (1) speargun with hook
One (1) speargun with hook and wire
One (1) collapsed speargun
One (1) gauntlet
Four (4) batarangs
One (1) batarang with posing wire
One (1) time bomb
One (1) One:12 Collective display base with logo
One (1) One:12 Collective adjustable display post
Each One:12 Collective Batman – 1989 Edition figure is packaged in a collector friendly box, designed with collectors in mind.
Quelle: MezcoToyz.com